Workshops Crafted For Your Business, School, or Special Event
Art and mindfulness workshops will bring creativity, new thinking skills, stress reduction, and joy to your office, school, event, or home.
In these carefully crafted experiences, Angie will share her knowledge, wisdom, and personal practice of over 20 years experience as a professional artist and yoga teacher. These workshops can be tailored to meet your event's specific needs.
Choose from one of these packages or we can design a unique package that is special for you!
Contact us for rates and availability.
Create a simple collaged and mixed media picture that tells a story about someone, or something that has meaning in ones life. This collage can help us to envision our direction or journey. Includes meditation, journaling, and simple collage instruction, and reflection.
Time: minimum 2 hours.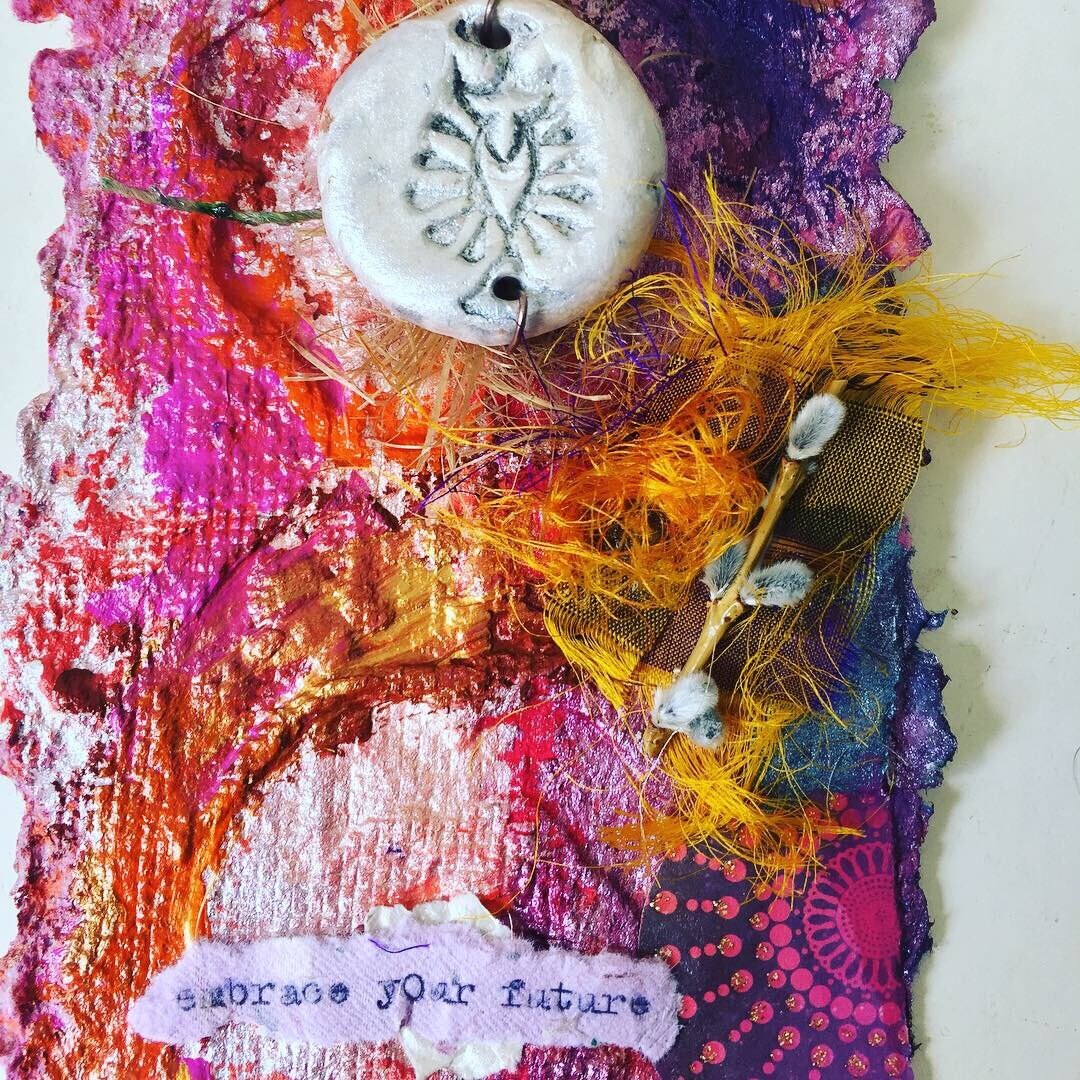 Using mixed media, handmade papers, paper clay, paint, pens, and more, you will design a personal badge that displays what is victorious in your life and work. Includes meditation and journaling.
Time Frame: simple 2 hours- or 2 days, depending on needs and time availability.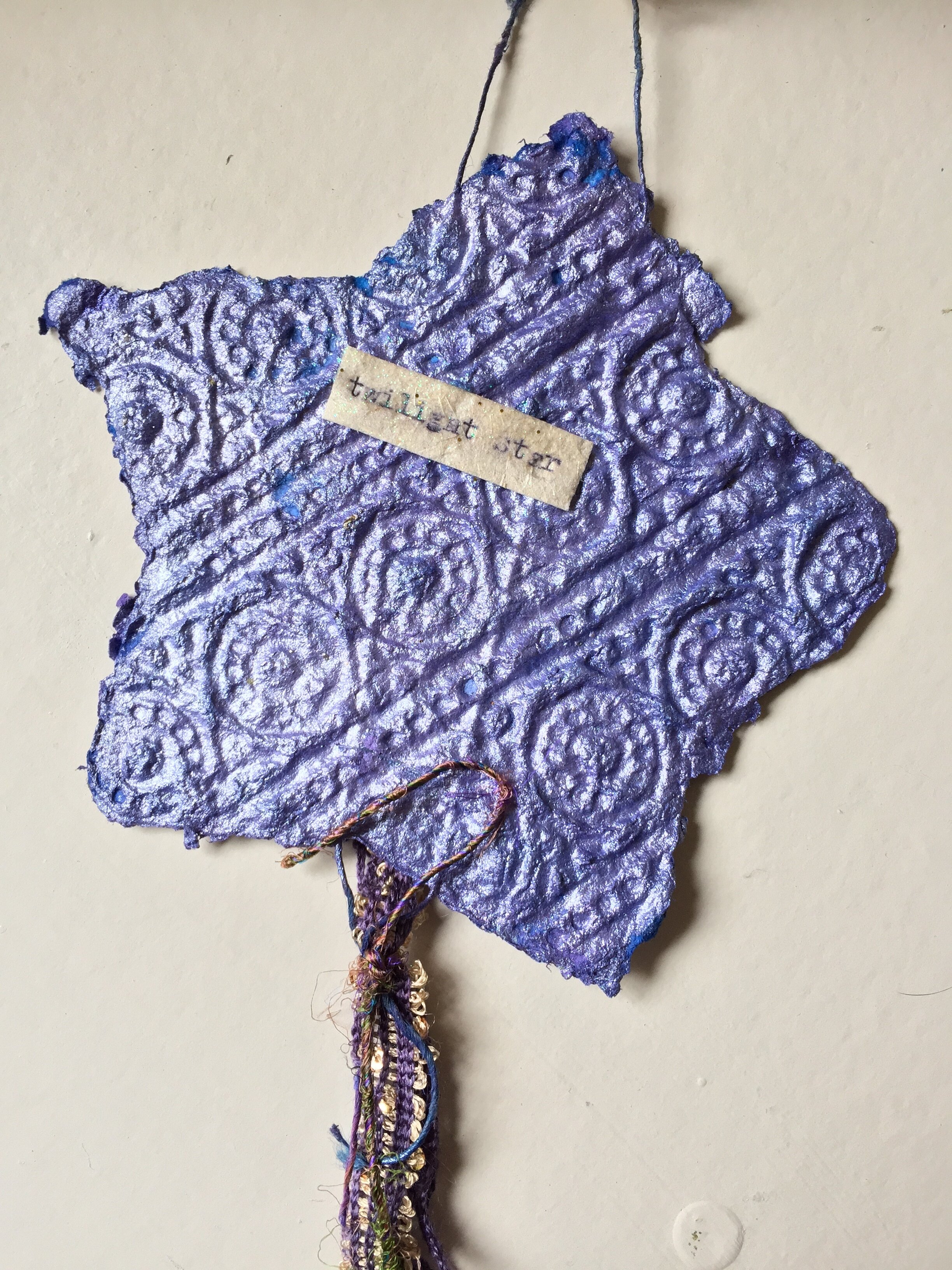 Sometimes messages come to us from the stars… Participants will learn the basics of hand papermaking and create embossed and embedded stars with special messages for themselves or their loved ones. Includes meditation, journaling, and found object walk.
Time frame: 2-3 hours, across min 2 days.
Make your own dream knots! In ancient times it was believed that knotted ropes held the ability to hold our wishes, intentions and dreams. Fiber arts and knotting benefits the brain and create a calming meditative state of mind. This workshop includes meditation and journaling. Choose from two possible designs: a simple macrame plant hanger or simple wall hanging, with wooden beads as we knot our intentions into creation.
Time: Minimum 2 hours.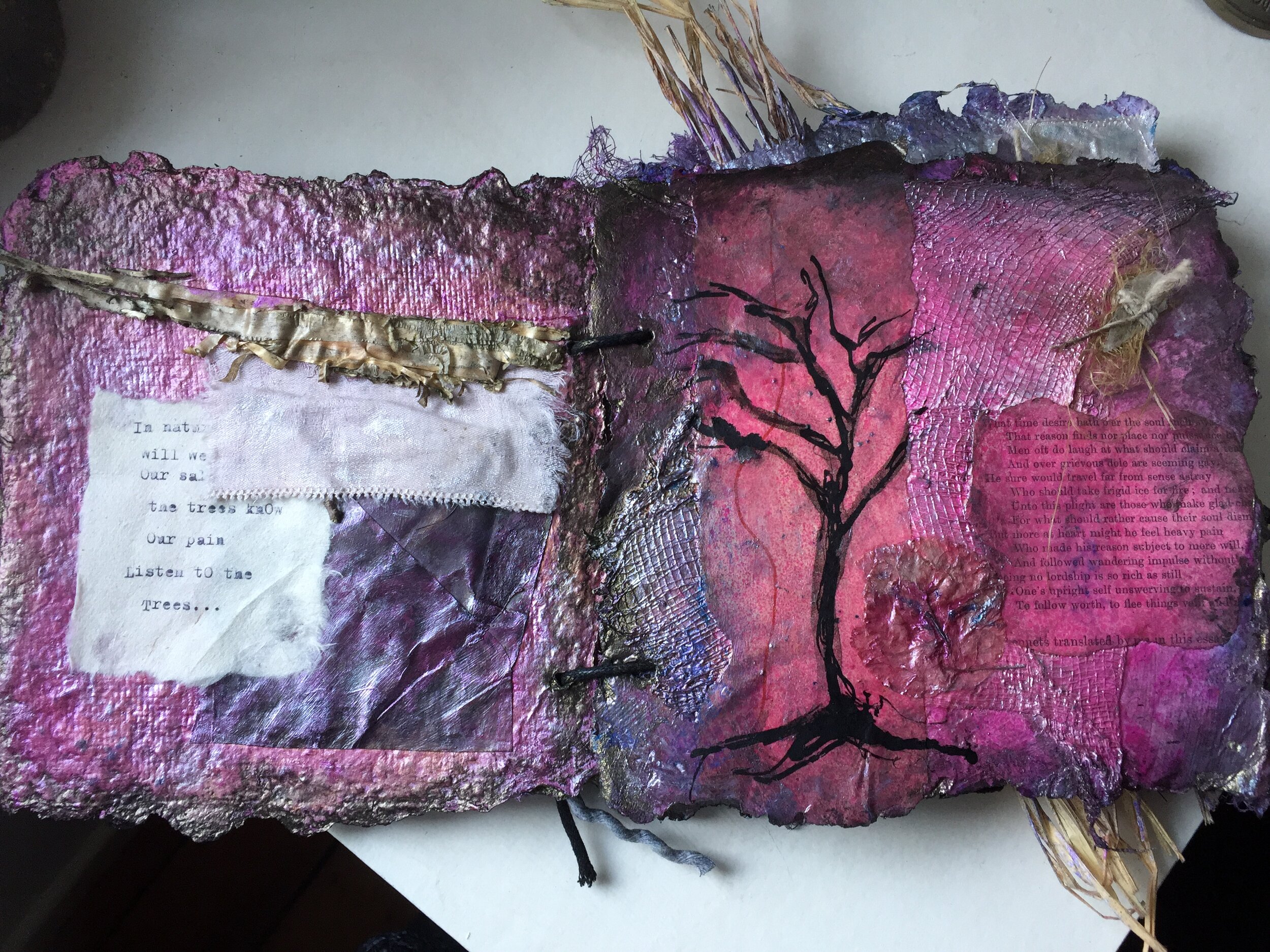 Using a pre-made book, we will rip, tear, and re-write our personal stories. We will reimagine these stories through mixed media materials: papers, scraps, paint, pens, glue, buttons, mixed botanicals, found metals, and more! Includes meditation, journaling, and found object walk.
Time Frame: 2-3 hours (1 day), or 2/3 day event, depending on needs and time availability.
Create your own story and personal narrative. Stories can come to us from our inner self, or they might arrive as messages from the collected stories of others. This is a hand papermaking, collage and book building workshop. Participants will make their own handmade papers with embossing and embedded materials. Once dry, we will paint and collage these pages with our own personal stories and narratives, either written, typed, or collaged from other sources. Simple book binding techniques will be included to create our very own completely handmade and from scratch art book.
Time Frame: A week long workshop, 5 days, min 4 hours per day.
Contact Angie to Reserve Your Mindful Arts Workshop Today!